InterRack Gateway System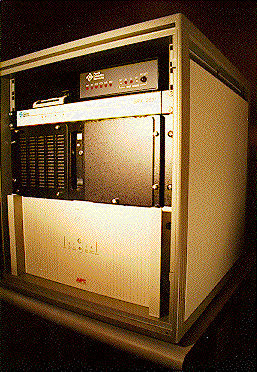 InterRack functions as your network's gateway to the Internet. Without disturbing your current computer resources, InterRack connects some or all of your PCs to the Internet, using a fulltime connection through your chosen Internet Service Provider.
InterRack is a fully turn-key system mounted in a self-contained rackmount cabinet (occupying about the same space as a standard filing cabinet). It can plug directly into your present Local Area Network or even become your network server if you wish. Additionally, it functions as a fax and E-mail gateway, and as a server for multiple printers as well!
InterRack is delivered to your site completely set up and ready to work, including full Internet functionality and communications with your existing network and Internet Service Provider. We provide training in the Celestial classroom at no additional charge, and the first year of our acclaimed remote support service is also included with your InterRack purchase.
NOTE: The image on this page is ancient, dating back to our first InterRack gateway systems in 1995. The current systems are far smaller, and can fit in the space required by the UPS at the bottom.
---
Copyright ©, 1996 Celestial Systems, Inc. All rights reserved.
---
Explore Our Space
We invite you to explore into our pages further, or fill out this form for the details important to you.